Unique place, offbeat, warm and open to all.
Our little story
Nestled in the small streets of Saint Paul de Vence, La Petite Galerie is an original and offbeat art gallery created in 2017 by Terry Boulet, son of Saint Paul artist Michel Boulet, whose studio has been located there since 1981.
From a very young age, Terry has been fortunate to grow up with artists, designers and gallery owners who have all given him a taste for the creative and artistic world. Picasso, Matisse, Miro, Calder, who all stayed in the village, have left a special history and atmosphere. He therefore strives, along with other shopkeepers and enthusiasts, to keep them alive, to the delight of the hundreds of thousands of tourists, art lovers and collectors who visit this mythical place on the Côte d'Azur every season.
Our selection
Each year, we select for you unique works made by young promising artists or reference signatures of the French or international Pop art scene such as David Ferreira, Kiko, Myriam Louvel Paoli, Daru, Laure Krug.
All the original works that we offer, paintings or sculptures, are made by artists whose workshops are located in France.
We visit each studio before selecting our partner artists and we maintain a friendly and very professional relationship with them. We can work for you on commission and on special projects with each of them.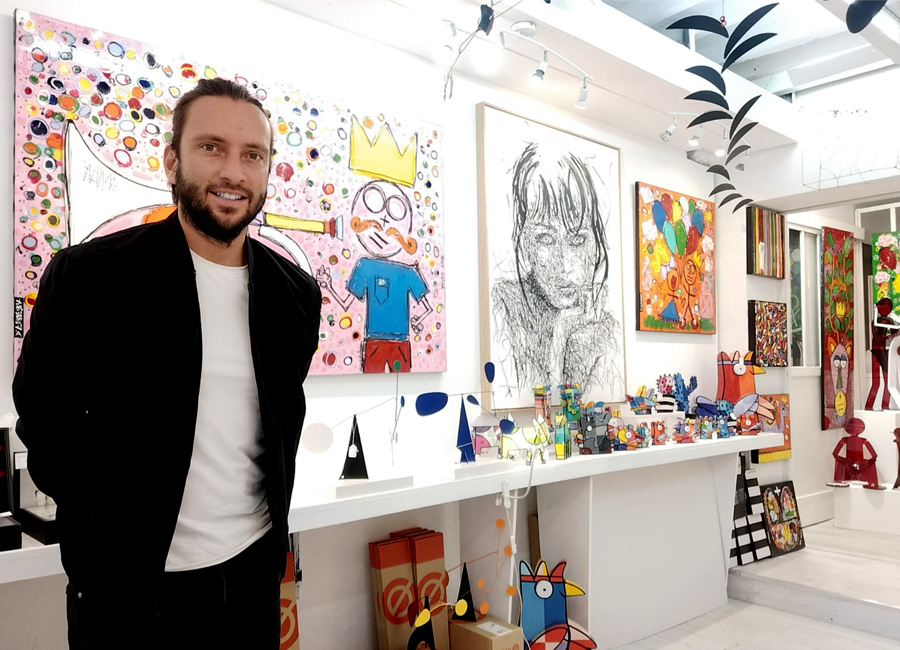 Our approach
Remaining a small family structure, our team made the choice to create a unique place, offbeat, warm and open to all. Thus, in the detours of spectacular original works, you will also be able to discover collections of artists' editions or small objects of local creators.
For example, we are since 2017 official reseller of editions of great masters such as Picasso, Matisse, Miro or Chagall.
You will find dozens of colorful mobiles, offbeat sculptures for children, ephemeral works or "ArtBox" for gifts!
Packaging of works and secure international shipping
Our service providers DHL, Fedex, Tnt, Ups deliver to you in specific packaging made by us. All shipments are delivered against signature and insured against breakage and theft.
You can thus acquire our works in all peace.
Original works on commission
If a work you have selected is no longer available, don't panic!
We will commission our artists to create a special work for you, an incredible and surprising experience!
Our ``Personal shopper`` service for your interior or exterior projects
You're moving in and you want a selection of original works of art that reflects you?
This service is for you!
We will understand your wishes, your tastes, and your sensibility in order to find the artworks that will brighten your interior and your life.
Our professional services
Corporate gifts
Our great diversity of works gives us the possibility for you to create corporate gifts.
Art can be an important added value for your professional relations.
Ephemeral exhibitions
Your company wants to create a buzz?
You are organizing a big event and you want to surprise your partners, prospects or customers with our offbeat works?
Dare the art exhibition! Our gallery comes to exhibit our best talents!
GALLERY
Contact
our team
Thus, thanks to its seriousness, its listening and its sympathy, the team of La Petite Galerie knew how to make itself an important place in the middle of many recognized international galleries. Do not hesitate to contact us for any request thanks to our contact form.
CONTACT